Board of Forensic Document Examiners
The Board of Forensic Document Examiners (BFDE) was established to administer a professional certification program designed to evaluate the knowledge, practical skills and abilities of forensic document examiners. Board certification is awarded to individuals who successfully pass the proctored written and performance examinations. This voluntary testing program is open to any document examiner who meets the prerequisites to sit for testing, and it is the only board certification program for document examiners that proctors all phases of testing. All BFDE certificate holders must adhere to a prescribed Code of Ethics and Professional Responsibility.
The BFDE was the first forensic document examination certification board to be accredited by the
Forensic Specialties Accreditation Board
. Initiated with a grant from the National Institute of Justice, the
FSAB
evaluates certification programs sponsored by the forensic specialties. Boards meeting the FSAB standards are awarded accreditation.
To ensure fair and unbiased testing, the BFDE has contracted with Occupational Research and Assessment (ORA) to administer, proctor and score the examinations. ORA is a professional test development and test management company. Steven Clark, Ph.D., director of ORA, worked with a team of forensic document examiners to write a national test that meets the requisite standards of validity and reliability. Test development is an ongoing process and ORA continually works with the test development team so that the test questions and database vary and remain current in the face of relevant new research and technological changes within the profession. The goal of the BFDE is to provide a credential that the legal community can rely upon when selecting a forensic document examiner. Certification testing is the best practical solution for a profession in which no degree specific to the discipline is offered at any accredited college or university.
An individual holding BFDE certification may advertise himself or herself as Board Certified by the BFDE and as a Diplomate of the Board of Forensic Document Examiners.
The BFDE is a non-profit organization incorporated in the State of Texas. The Executive Board is comprised of officers elected from the ranks of certificate holders, and three directors, including a public representative. The BFDE does not accept sponsorship from professional organizations or other entities, and its testing is open to all forensic document examiners who meet the prerequisites, regardless of their professional affiliation.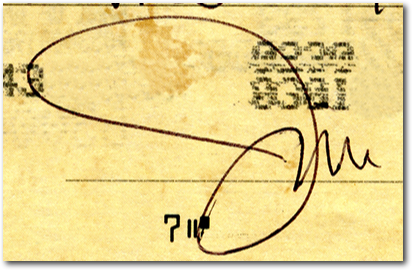 Handwriting Identification